General Overview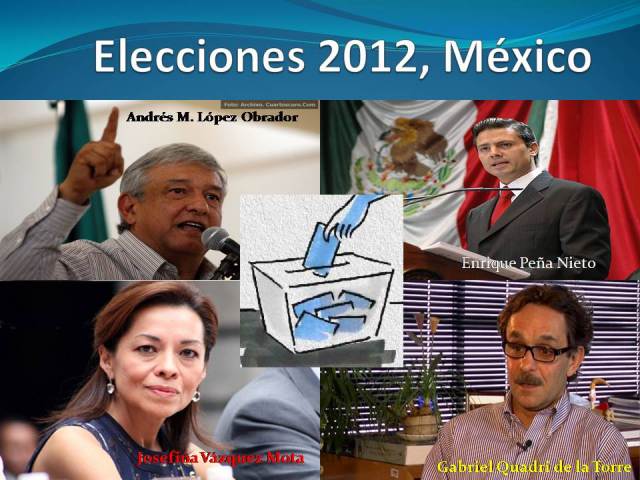 First, an introduction of who I am for those coming to this page from a search. I am a missionary living in Mexico City for the last 25 years. I am not a political analyst, but I am observing what anybody here in Mexico can see. There is a tremendous controversy brewing here in Mexico over the results of this election, and truly, there is a dark cloud over the country of Mexico as Mexico tried to discern (and believe what one side or the other tells them) what is the truth of this election.
Besides discerning really what happened, there is the next step, what to do about it. If there was fraud, then by law there should be a repeat of the election, and in actuality, this would be a ground-breaking step for social justice (presuming there was fraud and it is clearly proved to be such as to throw the election outside of its otherwise probable outcome).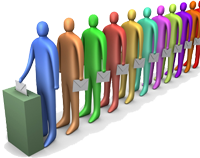 The first of July of 2012, Mexico held their presidental elections. Below are the election results which have been officially acknowledged.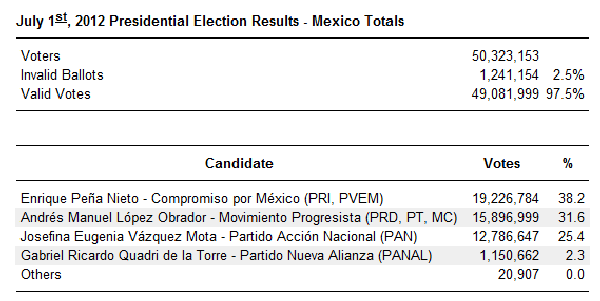 http://www.electionresources.org/mx/president.php?election=2012
http://computos2012.ife.org.mx/reportes/presidente/distritalPresidenteEF.html
There were four candidates running, and in reality, Quadri had so little following that he can pretty much be discounted. From what I have seen of his party over the years, I am amazed that he even got what he got!