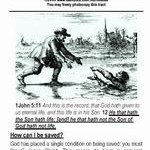 Plan of Salvation for your Soul
By David Cox version 4r
©2009 www.davidcox.com.mx/folletos
You may freely photocopy this tract.
This is a free photocopiable salvation tract to be used in door-to-door evangelism. This idea of this tract is to photocopy a couple of hundred of them, and then use them in evangelism, reading the verses and explaining these verses in presenting the gospel.
Menu: Main Tract Page > Salvation & New Believer Tracts
To download Printable versions:
Microsoft Word: Plan of Salvation v4.doc (168)
Adobe Acrobat: Plan of Salvation v4.pdf (171)
1John 5:11 And this is the record, that God hath given to us eternal life, and this life is in his Son. 12 He that hath the Son hath life; [and] he that hath not the Son of God hath not life.
How can I be saved?
God has placed a single condition on being saved; you must "have" Jesus Christ. This means to have a personal relationship with him, just as two people have one in being married.
John 17:3 and this is life eternal, that they might know thee the only true God…
To have eternal life is to know Jesus as your personal Saviour.
To know Jesus is the same as believing in him and receiving him
John 6:47 Verily, verily, I say unto you, He that believeth on me hath everlasting life.
Your confidence must be only in Jesus Christ alone. If so you are saved. If it is something else, a good work, a person besides Him, then you are not saved.
John 1:12 But as many as received him, to them gave he power to become the sons of God, [even] to them that believe on his name:
Having a formal relationship with Jesus
Salvation is not something that "perhaps" you have. It is a relationship in which you have complete confidence that your Savior Jesus Christ will save you. If people ask you if you are married or not, you would answer yes or no without any doubt. A wedding, a marriage license, etc are things that tangibly reflect that commitment you made with your spouse. If there isn't anything, you probably aren't married. Having made a commitment with another person, you will always remember it. Nobody is saved without having made this commitment personally with Christ as their Savior.
To not believe is to be condemned to hell.
John 3:18 He that believeth on him is not condemned: but he that believeth not is condemned already, because he hath not believed in the name of the only begotten Son of God. 36 He that believeth on the Son hath everlasting life: and he that believeth not (refuses to believe) the Son shall not see life; but the wrath of God abideth on him.
God sends people to hell because they refuse to believe in Jesus. This refusal means you are not saved.
Four steps to be saved
1. Recognise our problem, sin.
2. Decide to correct it, repentance.
3. Believe (accepting or receiving) in Jesus Christ as your personal Savior.
4. Public confession of Jesus as your Savior.
1. Recognise that you are a sinner.
Without recognizing you problem, you cannot be saved. Luke 5:31 they that are whole need not a physician, but they that are sick.
We are all sinners.
Ecc 7:20 For there is not a just man upon earth, that doeth good, and sinneth not.
1Jn 1:8 If we say that we have no sin, we deceive ourselves, and the truth is not in us. 10 If we say that we have not sinned, we make him (God) a liar, and his word is not in us.
We are all sinners, and if you say otherwise, then you are deceiving yourself, and you are calling God a liar. The consequence of sin is death in hell, the wrath of God.[1]
At death, there are no more opportunities.
God closes all further possibilities of salvation at death.
Heb 9:27 And as it is appointed unto men once to die, but after this the judgment:
God sends us to an immediate judgment after we die. There is no such thing as purgatory, there is no second chance, there is no reincarnation, and there is no returning from the grave to make better choices. When Lazarus and the rich man died (Luke 16:19-31, each one immediately were in their eternal judgments the next second (hell and punishment or in paradise).
Nobody has special considerations with God. Acts 10:34 "God is no respecter of persons".
God will send you to hell if you have even 1 single sin against you. Some people think that salvation is like a balance, your sins on one side, and your good works on the other, and whichever weigh more decides. But God sees things from another point of view.
James 2:10 For whosoever shall keep the whole law, and yet offend in one [point], he is guilty of all.
As in our country's laws, one single infraction can send you to jail. There is no need for more than one crime.
Gal 3:11 But that no man is justified by the law in the sight of God, it is evident…
Good works (or law keeping) do not get you out of jail, and they don't justify you before God either. In a court, all the good you have done does not erase any infraction.
2. Repenting of your sins
Luke 13:5 I tell you, Nay: but, except ye repent, ye shall all likewise perish.
Repentance is a total change in the direction of your life. If you are going to one city, but you are totally turned around going in the opposite direction, then repentance would be to totally abandon where you were going to go in the right direction. Moving your direction "a little bit" doesn't help anything here, you must totally give up everything. God only responds[2] to people who are broken hearted over their sin.
3. Relieve in Jesus as your personal Savior.
A. Salvation isn't by work, but only by means of faith.
Titus 3:5 Not by works of righteousness which we have done, but according to his mercy (God) saved us
Eph 2:8 For by grace are ye saved through faith; and that not of yourselves: [it is] the gift of God: 9 Not of works, lest any man should boast.
God conditions His salvation on us not adding anything to it. In other words, if you believe in Jesus plus your own works[3], Jesus has no part in it. It is like in love, if a husband brings two of his lovers to his home to live with him and his wife, the wife will just leave completely and not accept the situation. She must be the only one, or nothing. God is likewise very jealous.
Exo. 34:14… for the Lord, whose name is jealous, is a jealous God.
God also uses two concepts to explain how we relieve His salvation, mercy (not receiving a deserved punishment) and grace (receiving a gift not deserved). Our good works DON'T count at all with God. They are not taken into consideration in entering heaven.
B. Jesus is the only Savior.
1Tim 2:5 For there is one God, and one mediator between God and men, the man Christ Jesus;
Jesus is the only Savior and mediator that we can seek to save us. Mary, the saints, Buddha, etc. are excluded. If you add some person other than Jesus, you are not saved.
Acts 4:12 Neither is there salvation in any other: for there is none other name (apart from Jesus) under heaven given among men, whereby we must be saved.
Moreover you have to seek Jesus to be your Savior. The Jehovah's Witnesses seek salvation in Jehovah, but this is not the name that God has given for salvation. Jesus is Jehovah. If we add our good works, other intermediaries, or anything else to Jesus our Savior, God refuses to save, and we are lost.
C. Jesus is our sacrifice in our place.
We have a problem. God sees all, and we are sinners. So then we all go to hell for this. But even though God sees all, God turned his head when Jesus took on Himself our sin on the cross.
Mark 15:34… My God, My God, why hast thou forsaken me?
The only point in the history of universe where God as Judge didn't see sin is when Jesus became our sin on Calvary. Because Jesus, the Son of God, being innocent, died as a sinner, he became sin[4], carrying the sins of the world upon himself[5], so God the Father couldn't bear to see this, and blocked his view of this.
Col 2:14 Blotting out the handwriting of ordinances that was against us, which was contrary to us, and took it out of the way, nailing it to his cross;
If we receive Jesus as our personal Savior, He will save us. It is because of his shed blood[6] in the cross that we will be saved.
D.  Jesus is God
Mat. 16:15 But whom say ye that I am?
Mat 1:23 Behold a virgin shall be with child… his name Emmanuel, which being interpreted is, God with us.
God saved us according to how we relate to Jesus, Is he the Christ or not? The important thing here is that Jesus is God, totally without sin (Heb 4:15), therefore his death redeems others, but without his being totally God, his death would redeem only 1. Being God, his death redeems all humans if they believe in him. If we mistakenly believe Jesus is not fully God, then we do so to the loss of our salvation.
4. Confession of Jesus as you Savior.
Rom 10:9 That if thou shalt confess with thy mouth the Lord Jesus, and shalt believe in thine heart that God hath raised him from the dead, thou shalt be saved.
Matt 10:32 Whosoever therefore shall confess me before men, him will I confess also before my Father which is in heaven. 33 But whosoever shall deny me before men, him will I also deny before my Father which is in heaven.
We saw above that salvation is not through good Works, so this confession is only a public declaration of our faith in our Savior, not a work. For example, two young people are dating, and the guy never wants to make public his commitment to the girl. This isn't right. A serious commitment has to be public in some form or it isn't serious. God wants to see us publicly confess Jesus as our Savior before He takes us as serious in our faith. Serious heart belief is always followed by public confession and identification with Christ; otherwise you are just playing around with God.
Will you ask Jesus into your heart today? Pray and ask Jesus to be your personal Savior. You must confession that you are a sinner, and you must repent of your sins because they caused Jesus His pain and suffering, causing Him to die on the cross. Tell him you believe His death on the cross saved you from your sins. Never be ashamed or embarrassed about your wonderful Savior, but confess Him to everybody, making the public profession of Christ in baptism, joining a Fundamental local church.
---
[1]
Romans 6:23
For the wages of sin is death. Ezekiel 18:4, 20 the soul that sinneth, it shall die.
[2] Acts 17:30 God commandeth all men everywhere to repent.
Psa 34:18 The Lord… saveth such as be of a contrite spirit.
Jeremiah 26:3 If so be they will hearken, and turn every man from his evil way, that I may repent me of the evil which I purpose to do unto them because of the evil of their doings.
[3] Isaiah 64:6 But we are all as an unclean thing, and all our righteousness are as filthy rags…
[4] 2 Corinthians 5:21 For he hath made him to be sin for us who know no sin; that we might be made the righteousness of God in him
[5] 1 Peter 2:24 Who his own self bare our sins in his own body on the tree, that we, being dead to sins, should live unto righteousness (Jesus paid the price)
[6] 1 Peter 1:18 as ye know that ye were redeemed… 19 with the precious blood of Chris, as of a lamb without blemish and without spot
Hebrews 9:22 And almost all things are by the law purged with blood; and without shedding of blood is no remission.