Our Spanish Tract Ministry Statistics page gives you an overview of the effect our Spanish tract ministry has had. In 2019 we printed, folded, and distributed 60,000 of my tracts on the streets around our church. This page has graphics from my server for this website. I just did a screen capture and am sharing those with you.
Our Spanish Tract Ministry Statistics
Our Spanish Tract ministry was born because I wanted my church people to have the weekly sermons in paper format so that they could study the verses at home. I later saw the need to have scriptural defenses in paper form when we are witnessing on the street.
Overview of all years at the bottom.
I am presenting these statistics from the most recent to the oldest. At times, my Spanish tract website is down because server problems, my goofing up things, and virus attacks. So some months, the visits drop. But these statistics will give you some idea of the amount of reach these tracts have through the Internet. Please remember these two important points:
The average size of one of my tracts is only 200k, since 2015 I now compress the files and they are now around 60k.
Each of these files that are downloaded is in a printable format, so 1 download may be read once by somebody, or perhaps a pastor may download it and distribute that single download by the thousands. Only in glory will I know how much this tract ministry has reached.
I have studied the lowering numbers over the last few years, and I believe the problem is in the website setup. I have been studying this problem and a slow website is a great cause of people leaving it. I changed hosting companies in October through December 2020 (putting all of my websites on a different hosting company system) and I am beginning to see the difference.
With Covid 19, I am no longer making several tracts per week, but rather, I am making PowerPoint sermons and putting them up on ibf-tlahuac.com. To add to the problems, all of my websites have had problems uploading certain kinds of files, which is a problem I continue to fight with.
I have paid for the fees to keep this website out of my own pocket. We get little to no donations. We would like to have patrons to keep this up and going. Besides running this website, I create and make all the sermons and tracts on this website.
2020 Statistics
So let me recap what this chart tells us.
I am writing this post on December 16, halfway through the month, but I moved this website to a new hosting provider. But for these 16 days, I have had so far
Visitors: 2347 Visits: 5,283 Pages Viewed: 17,457 Downloads: 1.34Gbs (all for 1st half of the month)
Explanation: a slow server turns visitors away because they are impatient in waiting for the page to load. A faster server like what I have now means people get their pages quickly, and they browse and interact more on a website.
Year total number of unique visitors was 19,986, and counting all of a specific visitors visits that was 43,062 visits.
These 43k visits read a total of 458,000 pages, or about 10 pages per visitor.
These people downloaded 16.50 GBs this year alone.
On normal months, People are downloading between 1 and 2 gigabytes of data.
Note that this year I have had a lot of problems with my websites, fighting hackers trying to bring my site down. Compare to 2019 below.
Also note that most of the time I preach the tract. Therefore my Sunday School, AM and PM services all end up as tracts. As of May of this year, we started having all of our services via Zoom, and I am using PowerPoint presentations. Our visitors dropped because I was no longer putting out new tracts every week. (But our church website ibf-tlahuac.com jumped because our sermons were put up there.
Comparing 2019 and 2020, we had 2/3 of the visitors in 2020 that we had in 2019, but we had about 6 GBs more downloads!
2019 Statistics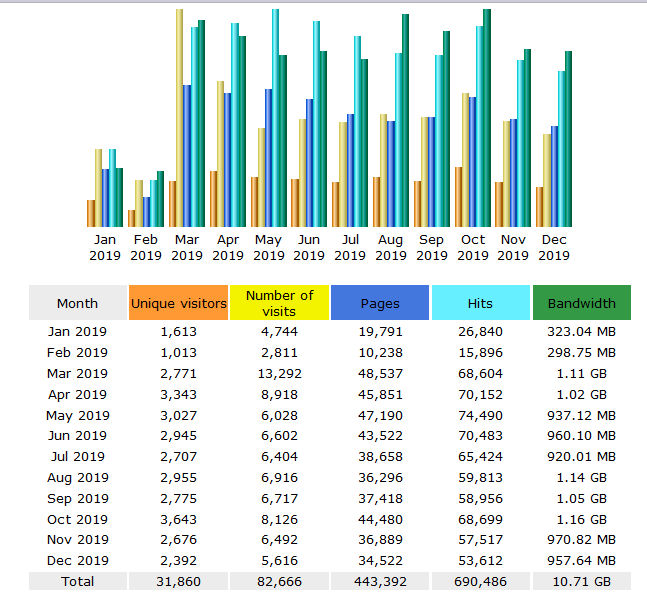 We had 31,860 visitors, and 82,666 visits.
A total of 44,392 pages were viewed.
They downloaded 10.71 Gigabytes of tracts. An average of about a gigabyte per month. The site was up and down in January and February.
We had approaching a half a million pages viewed on the website, which is awesome!
2018 Statistics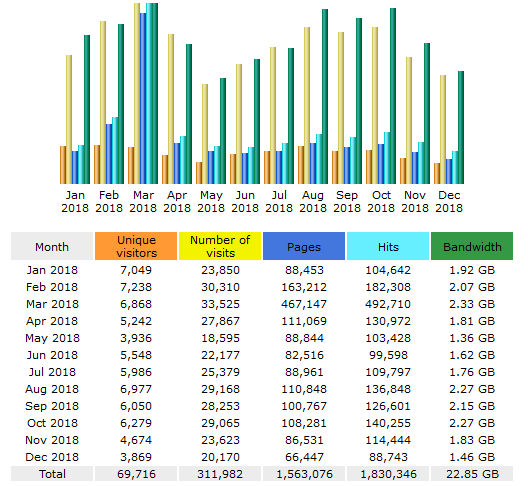 Total Visitors 69,716  Visits: 311,982
Pages Viewed: 1,563,076
Downloaded Data: 22.85 GB
2017 Statistics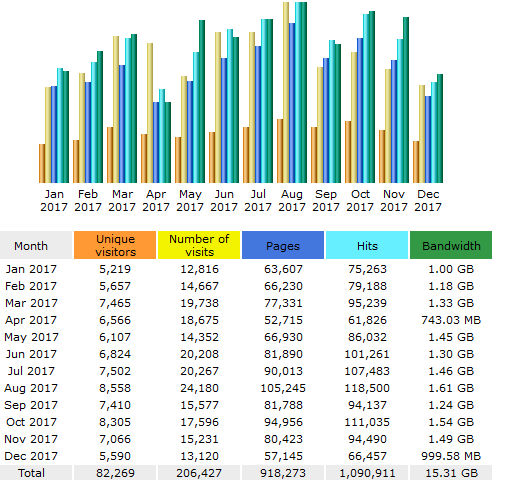 Total Visitors: 82,269  Visits: 206,427
Pages Viewed: 918,273
Downloaded Data:  15.31GB
2016 Statistics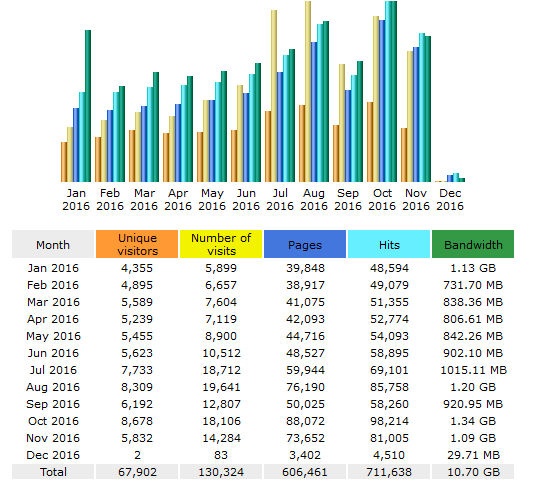 Total Visitors: 67,902  Visits: 130,324
Pages Viewed: 606,461
Downloaded Data:  10.70GB
2015 Statistics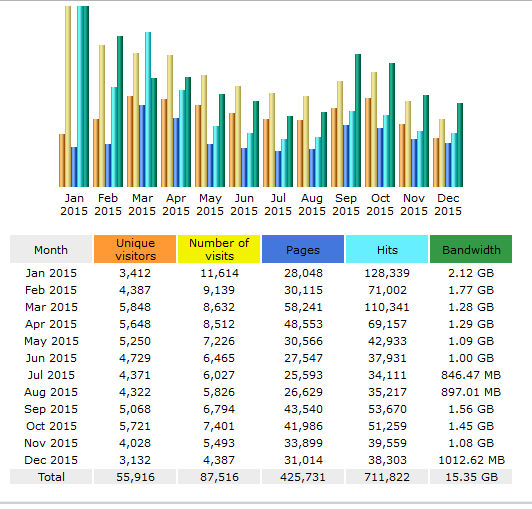 Total Visitors: 55,916  Visits: 87,516
Pages Viewed: 425,731
Downloaded Data:  15.35GB
2014 Statistics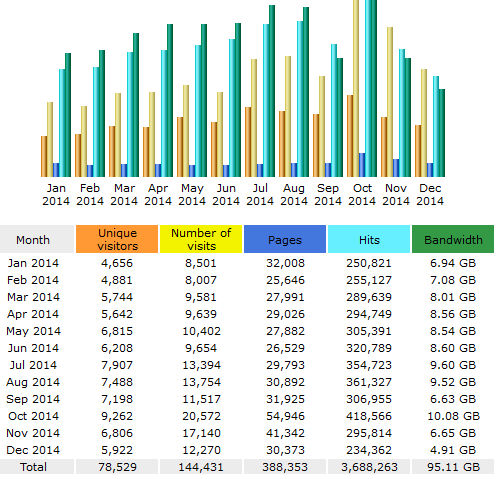 Total Visitors: 78,529  Visits: 144,431
Pages Viewed: 388,353
Downloaded Data:  95.11GB
2013 Statistics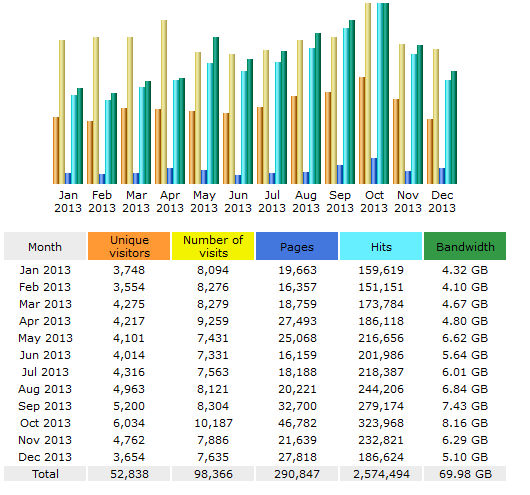 Total Visitors: 52,838  Visits: 98,366
Pages Viewed: 290,847
Downloaded Data:  69.98GB
2012 Statistics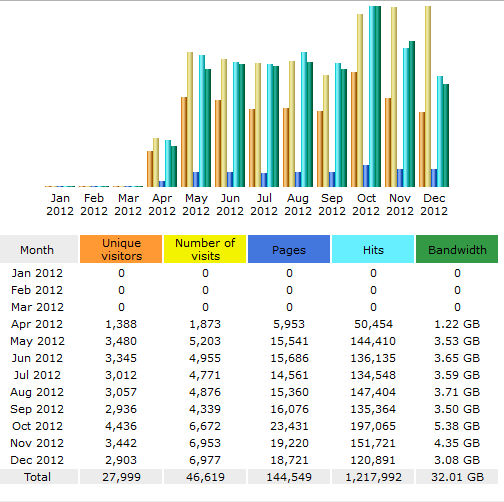 My Spanish Tract Website started in April of 2012
Total Visitors: 27,999  Visits: 46,619
Pages Viewed: 144,549
Downloaded Data:  32.01GB
Overview of All Years
| | | | | |
| --- | --- | --- | --- | --- |
| Year | Visitors | Visits | Viewed | Data |
| 2012 | 28k | 47k | 144k | 32GB |
| 2013 | 52k | 98k | 290k | 70GB |
| 2014 | 78k | 144k | 388k | 95GB |
| 2015 | 60k | 87k | 426k | 15GB |
| 2016 | 68k | 130k | 606k | 10GB |
| 2017 | 82k | 206k | 918k | 15GB |
| 2018 | 70k | 312k | 1.5m | 22.85 |
| 2019 | 31k | 83k | 443k | 11GB |
| 2020 | 20k | 43k | 458k | 16.5GB |
| Totals | 489k | 1.15m | 5.1m | 587.35GB |
So let me make some conclusions here. Since 2012 when I started this, we have had about half a million visitors which made 1.15 million visits, and viewed 5 million pages on my website. In total, they downloaded about 590 GBs of our tract files.