Nerves Presenting Missionary Presentation
Nerves Presenting Missionary Presentation
By David Cox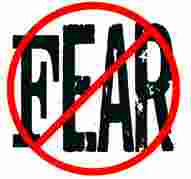 In this installment we think about being nervous in giving a missionary presentation.
When you think about it, first of all, you have contacts countless pastors and tried to talk your way past numberless secretaries to get to a pastor, and you have sent enough letters, emails, text messages to fill a computer, and after all that, you get very few if any meetings. When you actually get to a meeting, everything goes wrong. You leave your suit and tie back home, your slide presentation messes up or worse, the projector won't work or there isn't an extension cord that will reach, etc.
Ms Deborah Grayson Riegel gives us some help. First of all, do not present somebody that isn't you. Be yourself. IF you are uncomfortable with that, then change the you to what a good missionary, a good man or woman of God should. Secondly, we are not promoting ourselves really, but the work of God that God has entrusted to you. We are trying to get people to support the work of God. With that in mind, we should understand our efforts is for God (should be), and we should not take pride in how we do it (when we success) or how we messed up (when we fail).
Fears. Ms Riegel explains how these are things that you have to deal with when you stand before others and give a presentation.
This video is just enjoying to watch and listen to. This is good material for you to imitate.