Mexican Shadow Economy continues to dominate Mexico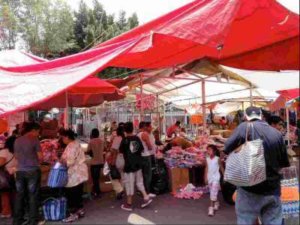 To explain what a "shadow economy" is (and to explain the Mexican Shadow Economy), we just note that a "non-shadow" economy is where business is done (products and services are sold) all in the plain sight of the government, and the corresponding taxes for the transaction is paid. The workers are legally registered with the government so that their income can be taxed as it is with all workers. The shadow economy pays no taxes in any way, and works "outside the government system". It is illegal, but it is very difficult to detect if both seller and buyer want the transaction to remain "outside the system".
Below is a video of a girl (I don't know her) that gives us a walk through of a typical Mexican street market (we call them tianguis). In just about every neighborhood in all of Mexico, the government allows these people to come, block off the street, and they set up these stands. Note in the video that the 1/2 inch square tubing is used to support the plastic tarp over these shops.
The next thing I want you to note is the types of things that they sell. While it is true that they sell just about anything and everything, most of it is cheapo, poor quality stuff. There are no guarantees here, and because you buy something from one vendor one week, the next week he may not be there. Sometimes what is sold is stolen. That is the nature of these things, no guarantee of the quality. Also there is no guarantee of the food quality either. Notice at about
1:09 minutes that the food preparation, the worker just wipes the plate with a wet clothe, he doesn't wash it. Also notice that there is yogurt and other food products that should be refrigerated, but mostly they are not. It is very hot outside, even with the tarp over it. At around
6:00 she finds a butcher, and again, no refrigeration for any of the meats. I would say that we buy from these markets often, but seldom is anything spoiled when we use it. At about
7:17 she finds the potato chip stand. They are delicious, but somebody told me they cut corners, so don't buy these. How do you cut a corner when you cut up a potato and put it in oil to fry it? They don't use corn oil. They get the fat from chicken butcher stands and melt it down and use that instead of corn oil. Even so, it still tastes good to me! The bad ones (to me) are really the ones that burn the oil and never change it. At about
8:25 at the taco stand, the problem here is that the temperature on the grill is rarely hot enough to kill the bacteria and germs. Good eating! Real "fast food"! (We joke that the fast part of "fast food" is running to the bathroom with diarrhea afterwards.) At
13:55 you will see a fish restaurant. Notice that they are mixing food in a (hopefully clean) 4 gallon plastic paint can. Get used to that if you eat much in these places.
(The purple red colors at times is from the sunlight coming through the red or purple tarp overhead, this is really how it looks when you are under it, i.e. no computer color problem).
Extent of the Mexican Shadow Economy
Perhaps you would see this same shadow economy in yard sales and flea markets, but you wouldn't think much of it. In Mexico 6 workers of every 10 are in the shadow market. This is their full-time "day job", and they pay no taxes to the government for their labors, they neither pay social security, FICA, nor anything similar to that to the government, and they do not report their income in any way to the government. I would observe that the way the government tracks down drug lords is through "ilicit enrichment", where the person purchases high ticket items without the apparent means to do so. In Mexico City, you cannot buy a car for cash (without going through this shadow economy to do so). All sales through dealerships must involve your bank by law.
The Mexican government put a cap on how much cash you can deposit into your bank account each month without invoking a special law that would sock you with a fee, like a tax on everything over a certain amount. This again was aimed at hitting the informal shadow economy.
How extensive is this shadow economy?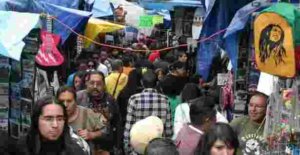 According to a study by Mexico's government National Institute of Statistics and Geography (INEGI), 25% of Mexico's GDP in 2012 was attributed to the shadow economy (Worldcrunch). This 60% of Mexico's workers (around 31 million people) are in this shadow economy AND PAY NO TAXES. To put it another way, only 4 of every 10 Mexicans have formal "stable" jobs. These people pay their taxes, and they get government benefits corresponding to that. But of those 4, probably 3.5 or more are underpaid, and overworked.
In 2012, 93% of farming and livestock production was in the underground economy. I would observe that this means that any kind of formal governmental inspections for quality just didn't happen on this 93% of food produced. 73% of all personal, repair and maintenance services, and 52% of trade was underground. Minimum wage and workweek hourly limits are simply non-existant in the underground economy.
With so many people producing relatively less — 60% of the workforce producing 25% of the GDP — these figures also clearly indicate that the black market is less productive. Productivity per worker in the formal sector is 2.3 times its underground equivalent, which in part explains the low wages.

Personal earnings are falling, and poverty is becoming a mass phenomenon. Though black market workers earn 21% less than workers with official jobs, their wages fell less — 19.5% — over the period studied than those of officials workers, whose fell 22.7%. (Worldcrunch)

"It's a growing problem … If we don't do anything, in a year we will be talking about 65 percent (of workers), not 60 percent," he (Carlos Cardenas) told Reuters earlier this year. Messmacher, who maintains all options are still open on the fiscal reform, said 60 percent of informal workers lived in the country or in smaller towns and villages with few formal job opportunities.

"These people work in agriculture or in very small mom-and-pop type enterprises," he said in an interview in his Mexico City office last week.

Another 20 percent are self-employed professionals and the remaining 20 percent are the public face of the black economy, making a living from market stalls, selling chewing gum at traffic lights or as domestic staff.
In other works, while the black market does give an immediate financial aid to these people, it gives it to them at a very high price, they produce less, and they receive less than formalized workers.
The bleak social scenario and growing size of the off-the-books economy may in fact indicate that our economic model is exhausted, that Mexico has become too distant from democratic norms and objectives. That's to say nothing of the rampant corruption that undermines practically all aspects of society.

People live and survive as they can within the vast miasma of the informal economy, and the social exclusion of its protagonists has many faces. Coexisting in it are illegality and tolerance, opulence and indigence, violence and resignation, deprivation and depravity, tradition, innovation, opaqueness and transparency — and countless other characteristics that will continue. (WorldCrunch)