This page is devoted to sharing with the public our tract production. We are just a missionary with a small church, and we are attempting big things for God.
I have written around 350 tracts in Spanish (folletosytratados.com), and translated about 90 of them into English (coxtracts.com). We offer all of the Spanish tracts in our church's tract racks and everything for free on our website.
The Value of Full Color
I am fully engaged in evangelism here. I write the tracts, at times I go door-to-door explaining the plan of salvation with a tract that I have written, and I print the tracts myself. I also give out thousands of tracts.
We have photocopied these tracts and used them that way, but the difference in reception between a photocopied tracts and full-color tracts is great. In our world of the Internet and videos, a full-color tract still has a lot of weight.
We do have people that reject anything we give out, and I have doubled back over where I have just given out tracts and seen tracts thrown on the ground occasionally, and our tracts ripped into shreds in people's hands. But all things considering, I only see that kind of thing once per day of giving out tracts, and that only occasionally. I have seen one person throw it down and somebody else pick it up and walk off with it. I have also seen people form a line to get one of these tracts and wait until I give them one. So Mexico is still open to print literature.
Our Participation in Eastern Ave. Baptist Church Seedline Ministry
In 2017 we visited Eastern Ave. Baptist Church, and heard of their Seedline ministry of assembling Gospels of John and Romans. They had a project of assembling 50,000 books in the Philippine language.  We came and helped them (we were 2 among about 50 of their members that really did all of the work).
The image gallery below shows some photos of this project. I take no credit for this, it was all these brethren. I just am constantly interested in printing literature so I loved being with them. Not to mention some of the ladies who really were coocoo making jokes to pass the time. In 3-4 days we assembled 50,000 pieces of literature.
My few days with their Seedline Ministry (part of Seedline from Milford Ohio) gave me a desire to do something similar in our church in Mexico City. I have written around 65 books,, plus a number after that that I need to find in my archives, and I am wanting to print up copies of these books and start distributing them as I can.
So how do we make them available for printing?
I use a regular computer printer for printing. The ones we use are tank printers which don't use print cartridges, you just use a syringe and put ink into the tanks from time to time.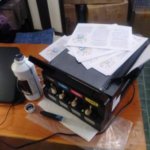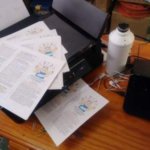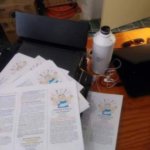 These photos are of the current printer we have at the moment. Using them the way we do, they don't last long.
These printers are rated at about 30,000-50,000 impressions (one tract we print on both sides so that is two impressions), and they have a little counter inside them that just makes them quit after they reach that number.
I have found a hack on the internet that will let you reset the print counter to zero and just keep on printing. I haven't found a printer that will reach the limit a second time. Usually, somewhere around the next 10,000 to 20,000 impressions something inside breaks (a cog or wheel) and it makes a scandal and it won't print anything else after that. It died.
Refilling the tanks
When the tanks run out, I have to take a syringe and draw about 200-400 ml of ink and refill the tanks. It is extremely messy if anything drips. But I am getting pretty good at doing this.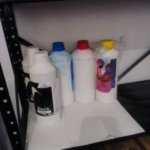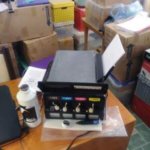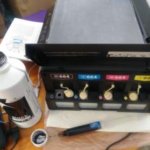 Believe it or not, a liter of ink lasts a long time. The cost is very little also with these tank printers.
Folding the Tracts
These tracts have to be folded twice. They are in a tri-fold design. So we have this really nifty machine to do this, and her name is Tule.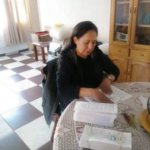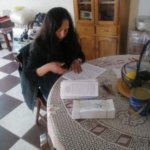 I do print and fold at the same time, so I don't give her all of them to fold, but she does fold a couple of thousand at the time sometimes.
Giving out the Tracts
Our philosophy is to do the work of the ministry, but also to teach and motive our own people to get involved. At times, some of our families volunteer, and just this week I gave 7500 tracts to two families to help Tule. She did the 4000 with me the week before.
But really what we are happy to see is our own people picking up packets of 50 or 100 tracts and giving them out as they are out and about.